Chinese Visa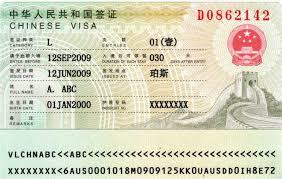 Visa Requirements
Chinese Visa
Document Preparation
(1) Original passport which has not less than 6 (SIX) months left before it expires from the date of application and sufficient blank visa pages.

(2) One completed Visa Application Form ( Form V.2011A - عربي ) ( Form V.2011A - English ) with a recently-taken passport photo stuck on it; all the items on the application form should be completed neatly with genuine information; if the applicant has a Chinese name, the Chinese name should be filled in; false or incomplete information and illegible characters may lead to refusal of a visa.
* For Work visa (Z-visa) applicant, Student visa (X-visa) applicant, infant or kid who traveling sharing the same passport, please fill-up an extra form, Supplementary Visa Application Form ( Form V.2011B - عربي ) ( Form V.2011B - English )
NOTE: All versions of old Chinese visa application form (non V2011A & V2011B) is not longer used and accepted for Chinese visa application.

(3) In addition to the above-mentioned documents, applicants applying for a student visa should also provide:
(a) Visa Application for Study in China (Form JW-201 or Form JW-202, original and copy) ; and
(b) Admission Notice (original and copy) ; and
(c) Physical Examination Record for Foreigner (Download/ PDF).

(4) Accompanying family dependents of personnel studying in China should apply for an L-visa. In order to apply for an L-visa, he or she needs to provide proof of kinship, e.g. marriage certificate, family card, birth certificate, etc., and copy of the student's X-visa as well as Residence Permit.